I finished up the quilting on my latest improv quilt. Yay!
I opted for quilting straight lines on the diagonal. I alternated between double lines and single lines.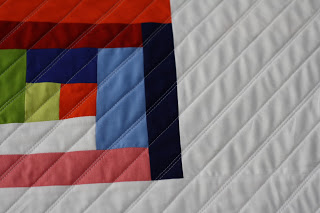 I had planned to do triple lines, but when I measured the quilt, I discovered that I was losing 1/4″ on both sides of the quilt with each set of lines that I put in.
I still don't understand why quilts shrink with quilting. Can anyone explain that to me? I know that there's something about the stitching that pulls up the fabric, but still it baffles me. Overall, I lost almost an inch on either side of the quilt. With more quilting it would have been smaller than the 36″ square I had planned. Plus there's the shrinking that will come with washing. So, I quit while I was ahead.
Now all that's left is trimming and binding.
I'm working on putting together some tips on straight line quilting to share with you. Stay tuned!
For now, I'm linking up with W.i.P. at freshly pieced.