I'm celebrating Leap Day and W.i.P. Wednesday with a giveaway!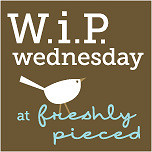 I must say that it was liberating to put this one together – to not worry about matching seams or exact measurements.
I wanted to continue that liberation with the quilting as well and decided to quilt straight random lines.
I hope to have a finished quilt to show you soon.
Now for the giveaway!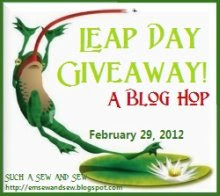 I'm giving away this charm pack of Malka Dubrawsky's newest collection to one lucky reader.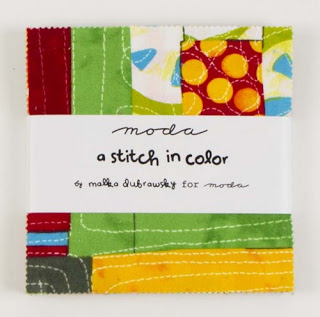 How to enter:
1. Leave me a comment telling me what you would make with the charm pack if you won (one entry).
2. Follow my blog or tell me that you're already a follower and leave me a comment letting me know (one entry).
I'll leave the comments open until today – Wednesday, February 29th at 10:00 p.m. Eastern Standard Time.
I'll let Random.Org pick the winner.
If you are a "no-reply blogger," please leave your email address in your comments so I can contact you if you win.
This giveaway is open to everyone, including folks outside of the U.S.
Thanks for stopping by!
Happy Leap Day!
The giveaway is now closed!