Thank you to everyone who stopped by and entered the Sew, Mama, Sew Giveaway!
Your comments helped me to get a better sense of what interests you. Tutorials by far were the most popular things that many of you want to read. Many of you are interested in learning more about the process that goes into making a quilt, from choosing fabrics to deciding on a quilting design. And who doesn't want to look at pictures of pretty fabrics and finished quilts?!? This is all good info for me to keep in mind. Thank you for sharing with me.
It is my pleasure to announce the winner of this lovely set of Flea Market Fancy fabrics.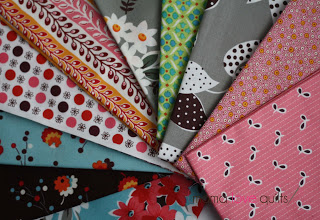 The bundle goes to comment #516, which was left by Pam.
True Random Number GeneratorMin: Max: Result:516Powered by
RANDOM.ORG
Generous giveaway!!! Thanks for the chance. I like to see tips and suggestions for newbies to quilting…
May 22, 2012 9:34 AM


Congratulations, Pam! I'll be contacting you soon for your mailing address. Have a great weekend everyone!