Have you heard about the Small Projects Sew Along over at Crazy Mom Quilts?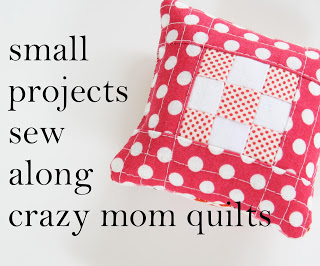 The idea is to pick a set of small projects that you want to accomplish in May and work throughout the month on the projects.
Since I already have a few things in mind, I figured this would help me get organized and hold me accountable for getting them done.
Here's my list:
Sewing machine cover for partner in Modern She Made (MSM) swap
Pouch and/or sewing accessories for MSM partner
Pouch for a friend for Mother's Day (I know I have to get on top of this one soon!)
Cityscape wall hanging
Preschool nap time mat covers (not a small project, but I must get this done soon)
My list is a fairly modest one. Hopefully, I will get these done. Some of them are "must-do," like the cover for my MSM partner and the mat covers that I promised the director of my daughter's preschool. And the others are more "would be nice" to make.
Are you sewing along with Crazy Mom Quilts? If so, what's on your list?