Thanks to everyone who weighed in on the giveaway prize. It is clear that I can't go wrong with giving away fabric, although I was surprised at how many of you would like a handmade item. We shall see if I can stitch something up in time to sweeten the prize. Either way, there will be a nice set of fabrics going to one lucky reader. Be sure to check back on May 21st. I think you will like them!
In other news, I'm making progress on my little city. People have moved in, along with their pets. Here is this little guy with his dog. Do you recognize the pup?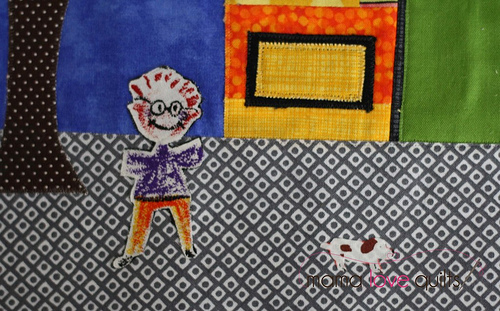 I'm also moving ahead with the sewing machine cover for the Modern She Made swap. I was originally going to do improv circles, but they proved to be a bit too much. It took forever to do one circle and then I wasn't really happy with them, so I figured, why torture myself?!? This is supposed to be fun!
I wanted to keep the improv going as my partner really likes improv so I stitched up a few log cabin blocks. I haven't decided on a layout yet, but am playing around with the blocks. There are so many different ways to arrange them.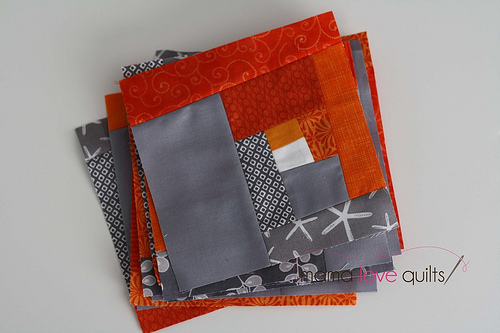 Although this is not the usual color palette that I like to play with, it is what my partner likes. It's starting to grow on me a little bit.
Now, I've just got to figure out how to incorporate circles into the cover.