I just finished a pouch for my friend for Mother's Day. Yes, I know I'm almost 3 weeks late, but it's the thought that counts, right?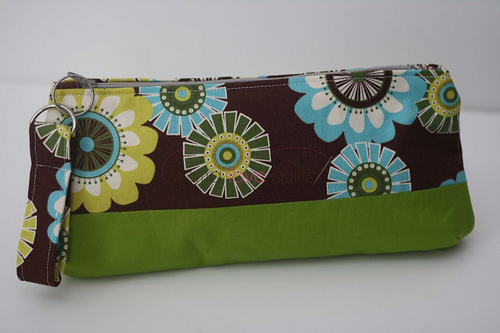 Any-hoo, I thought I'd share a few thoughts on the pattern. I used Oh, Fransson's Perfect Zip Bags pattern by Elizabeth Hartman and made two bags – the large and small in Style A. I must say the pattern and the bags are pretty darn close to perfect (by the way, I'm not getting anything for this review – these are just my two cents).
The pattern has instructions for making three styles of bags, each in two sizes. It is 20 pages long. Yes, 20 pages – that alone should tell you that Elizabeth was very thorough in detailing all the instructions. Every instruction in the pattern has a photo to go with it, which is really helpful for folks like me who like to see how to do something.
I've had the pattern for a while and have been a bit hesitant to get started. I felt overwhelmed looking through the 20 pages. But the bags looked so cute that I decided to give it a try.
At the beginning of the pattern, it says to read through all the instructions before beginning. I'll confess that I didn't really through the pattern before beginning and ended up cutting the pieces for the patchwork version incorrectly. The only way to salvage my bag was to make the small version even though I had intended to make the larger size. Still I think it turned out okay. I'll use the small one for myself and send the larger one to my friend once I find some goodies to fill it up with.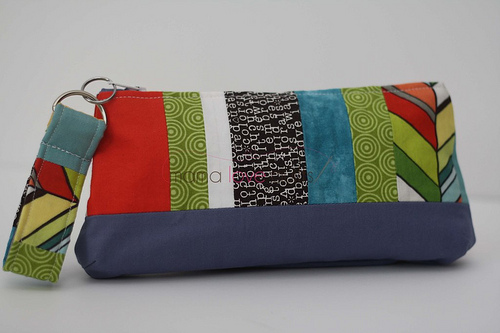 One thing that bugged me in the beginning is that there is a lot of prep work to do before you can begin assembling the bag. This includes making "fabric tape," as Elizabeth calls it, preparing the zipper, getting the straps ready and so on. After finishing the bags, I see that all that prep is worth it. The bags came out true to size and look pretty neat.
The pattern makes it really easy to customize the bag to meet your needs and wants. I prefer a zipper pull to a handle so I opted to make zipper pulls for both bags. Next time I make the small bag though I will probably use a smaller D-ring for the zipper pull. I had the 1″ on hand so that's what I used, but I think a 3/4″ would work better with the smaller bag. The 1″ D-ring is perfect for the larger bag.
I really liked the way the pattern walks you through installing the zipper. This zipper has got to be the easy zipper I've ever installed. Usually I see installing zippers as a great act of courage on my part and I usually end up ripping it out and trying it again before I get it right. But with this pattern, I got it right on the first try. I don't know if it's the little zipper tabs or what, but it was super easy to put together.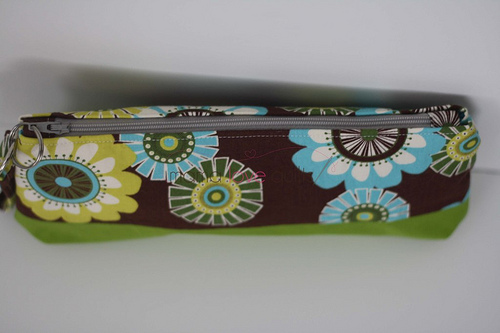 Overall, I give this pattern "two-thumbs up" for being easy to follow and making me look like I'm a professional sewer. I would definitely use it again and am trying to come up with another reason to make more of these perfect zip bags.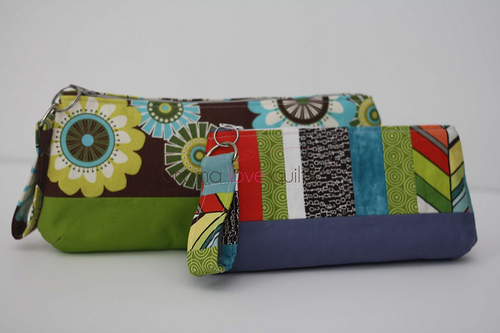 Feel free to ask me any questions about the pattern.
Happy sewing!