It's Fresh Sewing Day over at Lily's Quilts!
When I look back on what I did last month, I can see I went a little crazy making pouches. But can you blame me? They are useful for organizing things and so quick and easy to make.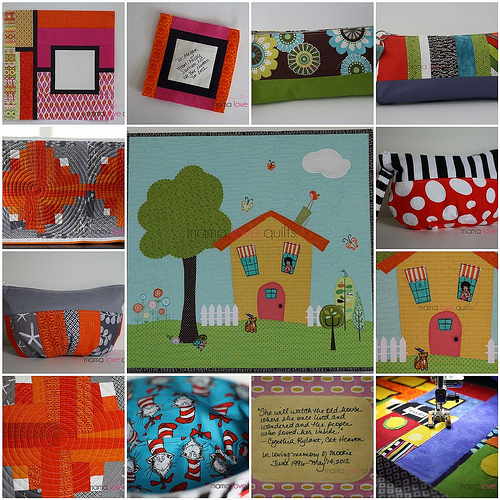 1. old house, 2. May block, 3. May siggy, 4. Oh Fransson bag, 5. Oh Fransson patchwork, 6. Sewing Machine Cover for Modern She Made Swap, 7. seuss pouch, 8. msm pouch, 9. old house_close, 10. Cover_spiral, 11. catinthehat, 12. oldhousequote, 13. building
I did manage to get most of my goals done in the Small Projects Sew Along and am linking up to Amanda Jean's finale.
Sewing machine cover for partner in Modern She Made (MSM) swap
Pouch and/or sewing accessories for MSM partner
Pouch for a friend for Mother's Day
CityScape wall hanging
Preschool nap time mat covers
I didn't get the CityScape quilt done and I'm not going to beat myself up about it. I stopped liking it and saw no reason to torture myself by pushing through with it just so that I could cross it off the list, although that would have been a nice feeling. Oh well, maybe I'll pick it up at some point.
I made one nap mat cover for my daughter's preschool. Along with the one I made last month, I have two out of ten done. At this rate, she'll be in kindergarten before I finish them all. Gotta put a move on it so I'm not singing this same tune next month!
My favorite finish of May was "
This Old House
." It was not on my list of projects for May, but was one that provided some quilting therapy for me as I coped with the lost of my cat.
So overall, May was a good month for pouch making! I'm looking forward to seeing what June brings. I've got a couple of tutorials I plan to share with you.
I'm also participating in a blog hop for the EZ Dresden Challenge. There are some great prizes involved! The kick off starts today over on the Salt Lake Modern Quilt Guild. Check it out!