who came up with the idea of foundation paper piecing?
I started wondering about it since I'm gearing up for the paper piecing class that I'm teaching at Thimble Pleasures next weekend. I'll be sharing tips and techniques for making this circle of geese quilt.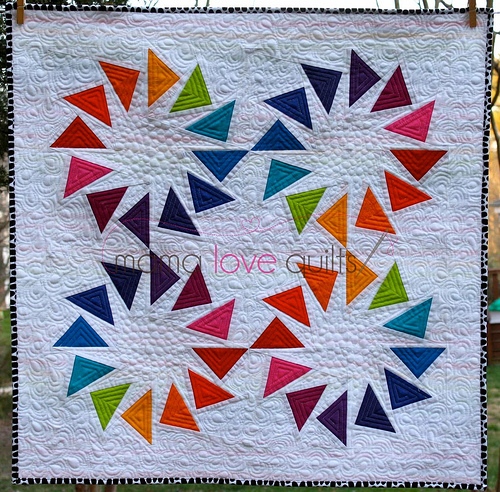 This quilt is one of my favorites. If it weren't for paper piecing, I don't think I would be able to sew triangles together in a perfect circle. It's pure genius!
So, who was the brilliant person that came up with this idea?
To satisfy my curiosity, I did some research on the history of foundation paper piecing. Foundation paper piecing uses a pattern drawn on paper as a guide for how to stitch pieces of fabric together in a specific order. It makes it possible to sew together intricate and complex designs that otherwise would be just about impossible. It is sometimes confused with English paper piecing, which uses a paper or in some cases a plastic template to create the shape to be pieced.
It turns out that foundation paper piecing has been around since the 19th century, when women wanted to come up with a way to use small pieces of fabric that were too tiny to sew otherwise. But it wasn't until 1976 that Lesly-Claire Greenberg came up with the foundation paper piecing that we use today. She's considered the mother of modern day foundation piecing.
If you'd like to read more about the history of paper piecing, check out this article, "The History of Modern Foundation Piecing" by Debbie Kratovil.
Paper piecing is still a great way to use up scraps today as you only need a little bit of fabric to create complex designs.
If you are in the Raleigh-Durham-Chapel Hill, NC area and have always wanted hands-on instruction in paper piecing, check out my class at Thimble Pleasures. There are a few spots still available!
Happy sewing to you!