I'm in!
This will be my first time participating in the Doll Quilt swap. To say I was ecstatic when I got the news would be putting it mildly. I've watched DSQ swaps from the sidelines for years. Now, I get to be a part of the fun!
Here's the mosaic I put together to inspire my partner.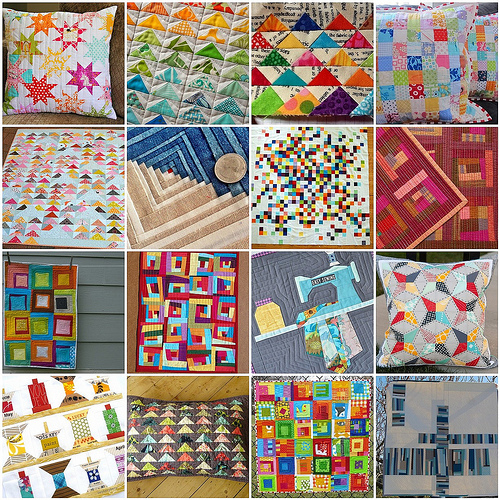 1. Rainbow Stars pillow, 2. "99 bright flying geese" doll quilt- detail, 3. Sewing Room Swap – small item, 4. Scrappy Postage Stamp Pillows, 5. Redbird Bee 2013, 6. Umm…yeah., 7. Ellsworth Kelly quilt – spontaneous color, 8. Mini Scrap Quilts, 9. YIP 365.48 :: Mini Quilt Monday.2, 10. Doll Quilt Swap 12 Front, 11. Paper Pieced Mini Quilt, 12. Finished Pillow Talk Swap Round 9 Pillow, 13. Rainbow Spools Rack, closer, 14. Prince Charming HST Pillow, 15. A "Stitch N Dye" look alike???, 16. No Simple Highway Quilt
As you can see, I love color, log cabins, flying geese, improv, and teeny tiny pieces.
I can't wait to find out who my partner is!