What do you like to do with your scraps?
I like to find as many ways to use up my scraps as possible. So when I was reading Quilting Line and Color by Yoshiko Jinzenji, I was inspired to use the scraps from Blue Orchid and make another quilt.
In the book, Yoshiko writes about focusing on the shapes of prints used in making quilts by fussy cutting certain parts of the print. I challenged myself to focus on the shapes of the orange floral print that I had left over from Blue Orchid. I didn't have much of the orange print left so I cut up the fabric into little pieces and surrounded them with a blue or cream solid. It was total improv!
I added squares of solid fabric with the print squares and made 25-patch blocks.
I sewed the patches together and added sashing and borders. Then it was time to baste.
I wanted to keep the quilting in line with the minimalism of the blocks and decided on diagonal straight lines. Again, I went with invisible thread, which blends with the different blues nicely. For more on why I use invisible thread, click here.
And because sometimes I need a little bit of encouragement to keep quilting, I stuck Super Grover on my sewing machine to cheer me on.
I think he worked because the quilt is done!
I'm loving this quilt for its simplicity – did I mention I'm on a minimalism kick now?!? – and for the challenge it gave me to look more closely at the shapes that make up the images on fabric. I don't think I'll ever look at a print the same again.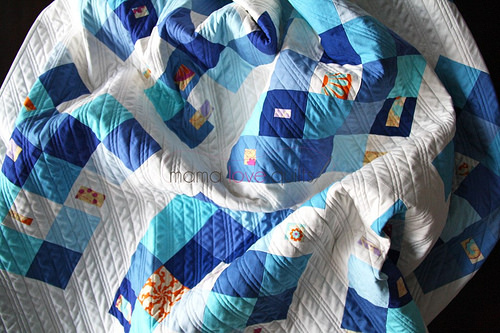 Linking up to Finish It Up Friday and TGIFF!