It's that time of year again: Sew Mama Sew Day!

If you're stopping by Mama Love Quilts for the first time, welcome!
I'm Nicole, the Mama behind Mama Love Quilts! I love to make modern quilts and other home decor items using improvisational and traditional techniques. Check out this mosaic to see what I've been stitching this year.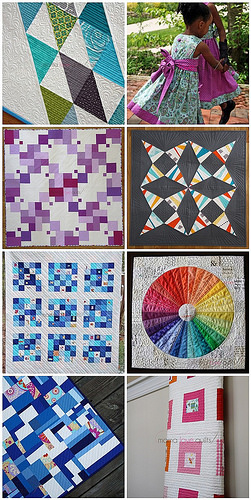 1. Birds Quilt1, 2. Easter Dresses3, 3. Boxed Radiance, 4. Rocky Stars, 5. Blue Patches, 6. DQS14_Color Wheel, 7. Blue Orchid_3, 8. Treasure Boxes2_hanging
This year's giveaway is being sponsored by one of my favorite places to feed my fabric obsession: Pink Chalk Fabrics! I love shopping at Pink Chalk Fabrics for the wide selection of fabrics and patterns, great prices and excellent customer service.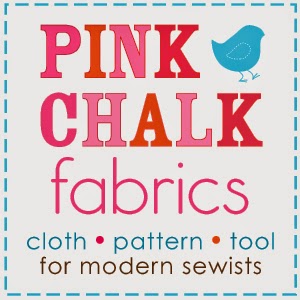 One lucky winner will receive a $25 gift certificate to Pink Chalk fabrics.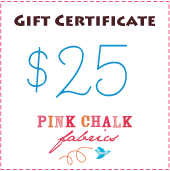 You've got four (4) chances to win:
1. Leave a comment answering this question: What's your favorite quilting or sewing book? (one entry)
2. Follow my blog (via Bloglovin, Google Friend Connect, email, RSS, etc.) and let me know in a comment. If you're already a follower, leave me a comment letting me know (one entry).
3. Follow me on Instagram (@mamalovequilts) and leave me a comment letting me know. If you already follow me on Instagram, leave a comment letting me know (one entry).
The giveaway will stay open until May 16th at 8 p.m. EST.
I'll let Random.org pick the winner. If you are a no-reply blogger, please leave your email address in your comment so that I can contact you if you win. If Random.org selects a winner that does not have an email address available, I will use Random.org to select a new winner. If you are not sure whether or not you are a no-reply blogger, check out this
post
by Adrianne at
On the Windy Side
to find out!
The giveaway is open to everyone, including folks outside of the U.S.
While I will be unable to reply to comments due to the high volume, please know that I read each comment and appreciate the time you took to enter the giveaway.
Thank you for entering! Good luck!


The giveaway is closed.