Picking a color scheme for a quilt can be one of the most challenging parts of quilt making. I used to agonize over picking colors until I paid attention to the fabric.
Fabric designers have already done the hard work of selecting colors that go together beautifully. Letting the fabric be your guide in color selection makes it easy to choose a color scheme for a quilt.
There are three steps:
1. Select a multicolored fabric that you love.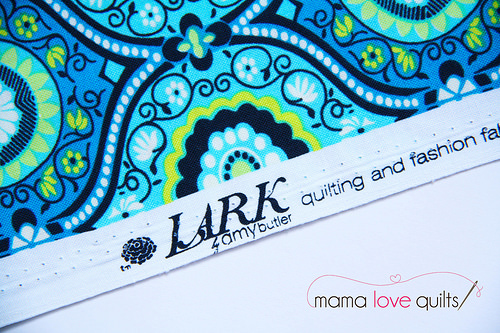 In my case, I picked a print from the Lark collection by Amy Butler.
2. Look for the little circles of color on the selvedge. These circles show you the different colors that were used to make the fabric. Some fabrics may use 2 or 3 different colors. Others may use as many as 12 or more different colors. Either way, the circles provide you with a color scheme that coordinates nicely.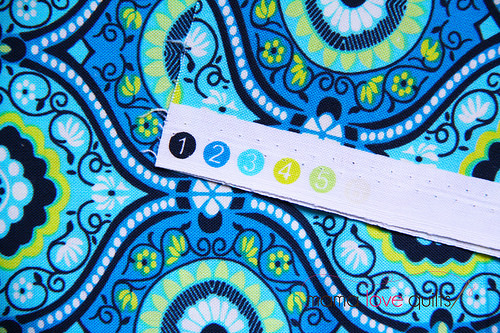 In the Lark example, there are 6 colors that make up the print: 3 blues, 2 greens, and 1 cream.
3. Go through your stash (or the fabric store) and pick colors like those on the selvedge. The colors of the fabrics don't have to be exactly the same as the colors on the selvedge. A color that is a different value, either lighter or darker than the color on the selvedge will work. But be sure the fabric color is in the same color family as one of the circles on the selvedge.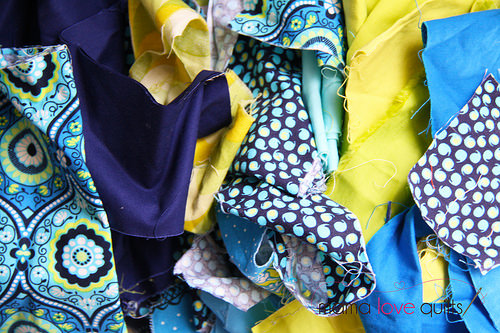 Put the fabrics all together and I guarantee you'll have a great color scheme for your next quilt!