Happy New Year!
January is my month to be Queen bee in the That Stash bee. This bee focuses on updating traditional blocks with a modern look by using contemporary fabrics.
I chose the "Birds in the Air" block. It is also known as "Flying Birds." I wanted a fairly easy block with lots of design potential. This block fits the bill!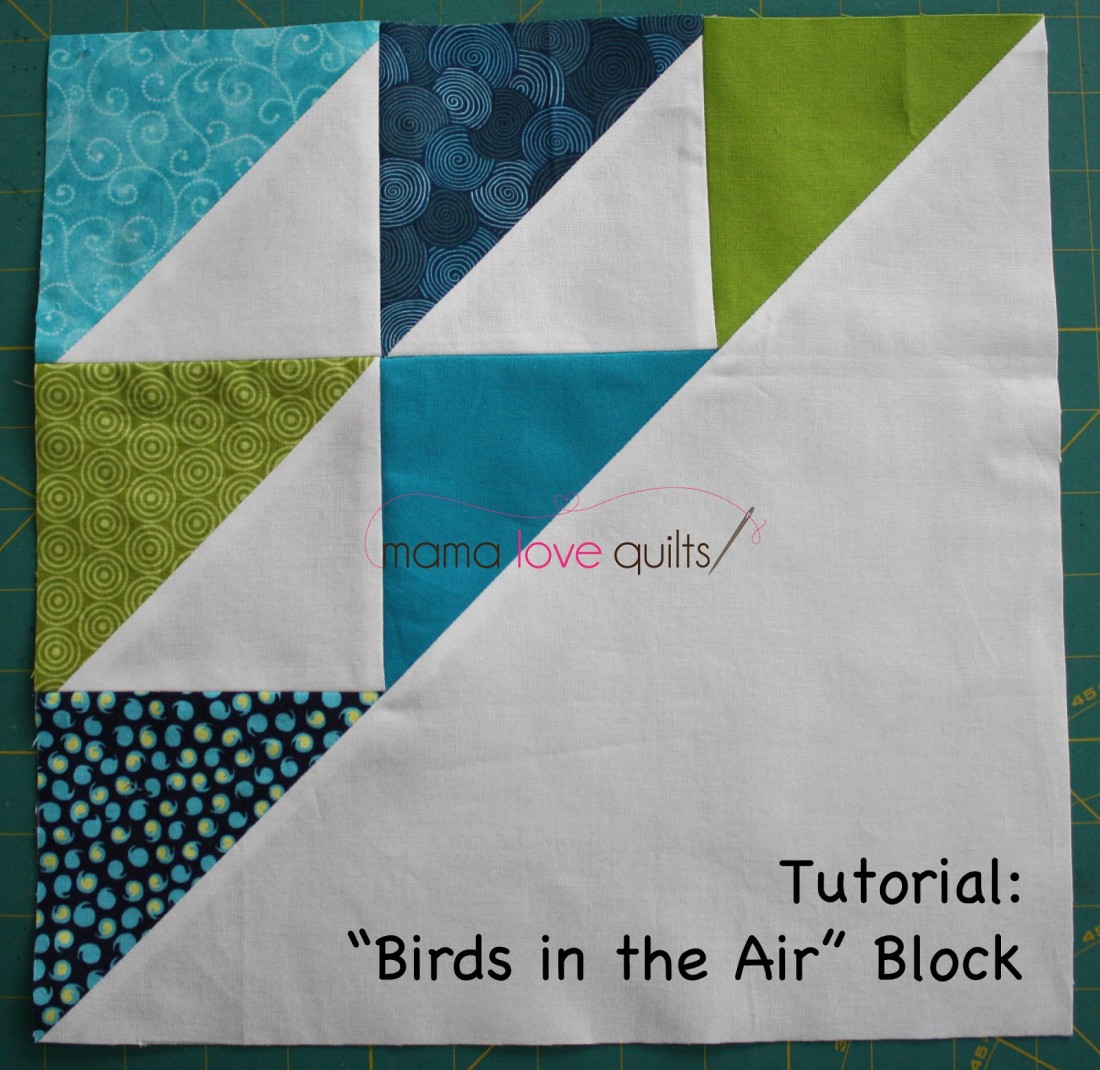 Today, I'll show you how easy it is to make this block and a few of the design options for using it.
Finished size
:
12″ square
Materials needed:
One 12 7/8″ square white fabric (for background)
Three 4 7/8″ squares white fabric (for background)
Six 4 7/8″ squares of prints or solid fabrics (make sure they contrast strongly with the white background fabric)
This is enough fabric to make 2 blocks.
Cutting:
Cut all pieces in half along the diagonal.
Here is the 12 7/8″ square. For one block, you only need one of the triangles. Set the other aside for a second block.
Here are the 4 7/8″ squares. For one block, you'll need 3 white triangles and 6 print/solid triangles. Set aside any extras for another block.
Piecing:
Lay out the pieces as shown.
Sew the small triangles together, working one row at a time. Press the seams open. Sew the rows together until you have one big half square triangle. Press. Then sew the large half square white triangle to the pieced half square triangle to finish the block.
Press. Trim to 12 1/2″ if needed.
Enjoy the birds in the air and start thinking of all the layout possibilities. Here are a few that I drafted in EQ7.
You could go the traditional route and lay them out like this…
or jazz things up with some zig zags like this…
or this…
How about diagonals?
The possibilities are endless! Have fun trying out different layouts.
I'd love to see any blocks or quilts that you make using this tutorial. Feel free to add photos to the Mama Love Quilts Flickr group.
Happy sewing!