Have you been trying to figure out how to keep track of all your work in progress (w.i.p.)? I know I have!
This weekend I faced up to all my w.i.p.s. I raided my closets, drawers, boxes and bins and pulled them all out.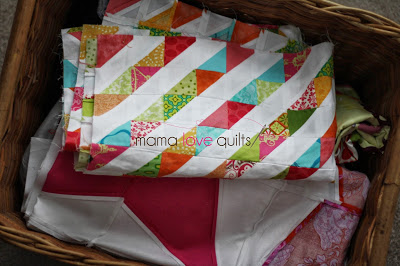 I got a sheet of paper and a marker and wrote down the name of each project and where each was in the process. Did I finish cutting all the fabric? Did I piece the top? Did it need quilting? Did it need binding? How about a sleeve to hang it?
I jotted down notes and then thought: there's got to be a better way to keep track of these W.i.P.s.
I gave it some more thought and came up with this tracker.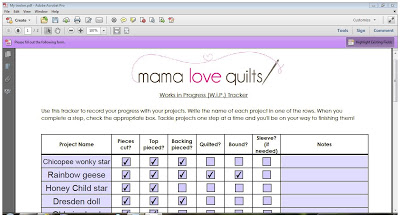 For each project, I created a column for each major step of the quilting/sewing process:
Cutting
Piecing
Backing
Quilting
Binding
Making a sleeve
If you're looking for a way to organize and keep track of your W.i.P.s., check out my tracker by clicking here.
I've made the tracker into a fillable pdf so you can type in information and keep a digital copy and/or print a hardcopy. Just download it first and then fill it in using your computer. Of course, you can also print a hardcopy and then fill it in by hand.
Regularly review your table and decide which w.i.p. will get your attention. Tackle them one step at a time and you'll be on your way to finishing up those projects!
Please let me know if you have any questions.
Happy sewing to you!