Thanks to all who chimed in on my Tango vote!
Here are the results:
Idea #1: Wonky Stars – 3 votes
Idea #2: Triangle Bonanza – 1 vote (indirectly for the quilt that would challenge me the most)
Idea #3: Scrappy Improv – 5 votes
Other: Whatever I want! – 1 vote
It was pretty close between wonky stars and scrappy improv, but it's clear that most of you want to see another improv quilt.
So, I started playing around with the scraps. I should have just tossed some of them out because they were so tiny, but I have a hard time parting with fabric.
Here's a block I pulled together.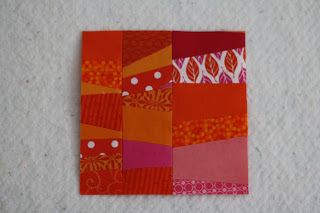 Okay, I'm off to tango with my scraps. I'll be back soon to share my progress.
Thanks for stopping by!