It took me two days to get my little scrappy quilt basted and ready for quilting. I didn't think it would take that long, but I ended up pinning it and then unpinning and re-pinning four different times to smooth out puckers on the back. Not fun!
Once I got the quilt under the presser foot, I felt like I was pulling a quilt sandwiched with lead. It is so heavy! I didn't know that quilting would make me work up a sweat.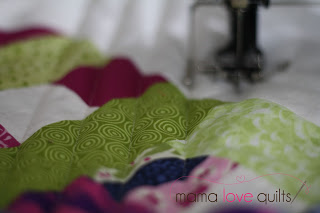 I ended up putting a couple of extra tables around my sewing table to support the quilt while I sewed. This made a huge difference. Once I changed my set up, the quilting started going much smoother.
I'm working on quilting the straight lines now about an inch apart. Once I get these lines done, I plan on going back and putting in more lines at half an inch apart. After I get those done, it will be on to FMQ!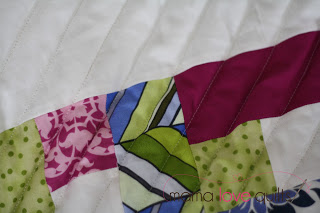 I have no idea how long this is going to take. I'm so tempted to start another project – a quick one so that I can get some instant gratification. But, I know that starting a new project will mean I'm taking time away from this one, which means it will take longer to get this one on my bed!
The vision of this quilt on my bed is pushing me on. I can do this. I know I can.