Two years ago today, I had a 7-month old baby, a 3-year old child and a burgeoning love for modern quilting.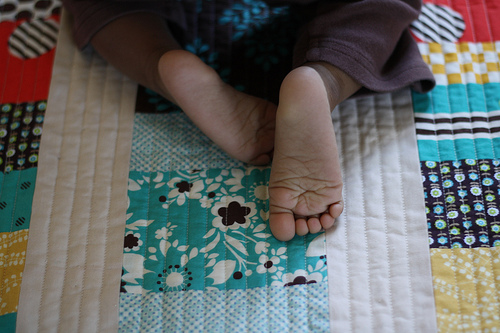 For a while, I had sat on the sidelines of the virtual modern quilting community, reading blogs and watching with fascination at the works of art that came across my computer screen.
On January 2, 2012, I took a step of faith and started this blog to share my work and connect with other people who share my love for all things quilty. I didn't know that decision would be one of the best ones I have made in my life.

Through this blog, I have made friends, found inspiration, and received encouragement for my work. I am humbled by the opportunities that have come my way as a result of this blog.
Today, I have a 2 1/2 year old, a 5 year old, and a love for modern quilting that keeps growing with time.
I look forward to continuing to nurture my connections with you all through this blog as I share the ups and downs of my quilting life.
To celebrate my two years of blogging, I'm giving one lucky reader a $25 gift certificate to Fabricworm. Please know that this is not a sponsored giveaway, but a chance for me to give back to a reader. I wish I could give you all a gift for the support you have given me.
To enter leave a comment answering this question: What do you look forward to seeing on this blog this year?
I'll let Random.org pick the winner. If you are a no-reply blogger, please leave your email address in your comment so that I can contact you if you win. If Random.org selects a winner that does not have an email address available, I will select a new winner. If you are not sure whether or not you are a no-reply blogger, check out this post by Adrianne at On the Windy Side to find out.
This giveaway will be open until January 9th, 2014, 8 p.m. EST.
The giveaway is open to everyone, including folks outside of the U.S.
Thank you!
The giveaway is closed.