I felt like Edward Scissorhands working on this quilt.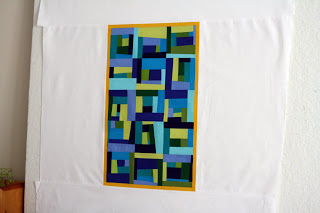 Wheeling the rotary cutter across pieces of fabric, I had no need for a ruler or measurements. Big pieces. Little pieces. Crooked or straight pieces. It didn't matter. They all added together to create this mosaic of blues and greens. That is the beauty of improvisation.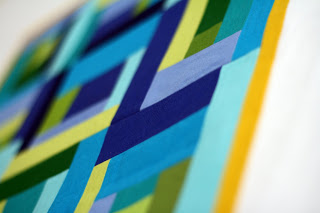 I had so much fun creating this quilt. I was originally thinking of putting the blocks into rows, staggered and separated by white sashing. But once I got them up on my design wall, I liked them better as one big rectangle.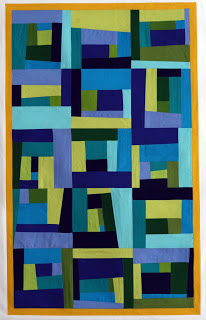 I framed them with a shock of yellow-orange and then lots of white.
I'm thinking of quilting straight lines on the white, echoing the yellow frame. As for the quilting of the blocks, I'm still deliberating on how to quilt them without distracting from the blocks. Straight lines? Meandering lines? Spirals? Decisions. Decisions. Any suggestions?