This puppy has been on my design wall for some time now. Just waiting for my attention.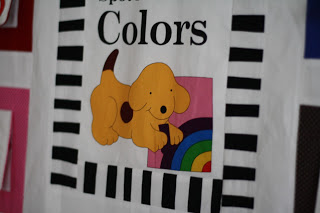 Those of you with little ones will recognize that it's Spot.
As you can see from the worn cover of Good Night, Spot, my eldest daughter loved the Spot books.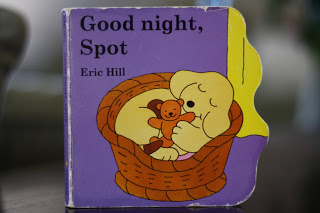 When I found this panel of Spot and his favorite colors, I began thinking about how I could use the squares to teach my baby girl her colors.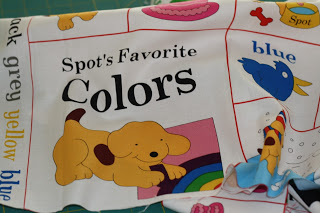 She's 8 months old now and reaching for everything.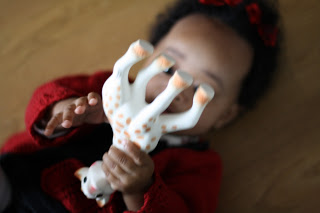 What better way to put those little fingers to work than with flaps on a peek-a-boo quilt?
Unlike a book which can be torn by little fingers or ruined by tasting, a quilt can take a bit more of the abuse from little people and bounce back after a trip in the washing machine.
I cut the panel squares out and made blocks. Here's the blue one.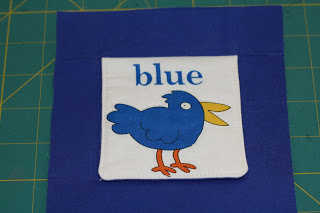 When you lift up the flap, there's Spot!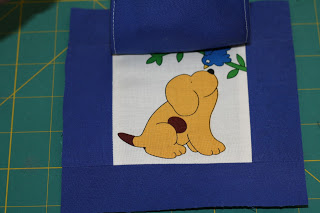 I sewed the blocks together with some sashing, added a couple of borders and voila!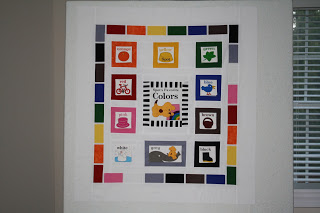 Putting this top together required more math than I expected, but it all worked out.
I'm hoping to quilt this one soon so I can test it out with my baby girl. I've given her sneak peeks as I made progress and it tickles me to see her smile when she lifts the flaps.
I'm linking up to W.i.P. Wednesday at Freshly Pieced.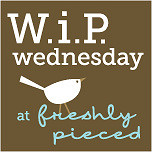 Thanks for stopping by!