I just found out that I made it into the Modern She Made swap! It sounds like it will be fun. You make something for a secret partner and the only thing is that you've got to incorporate circles somehow into the design.
To help out your partner, you need to put together a mosaic of things that you like. Here's mine: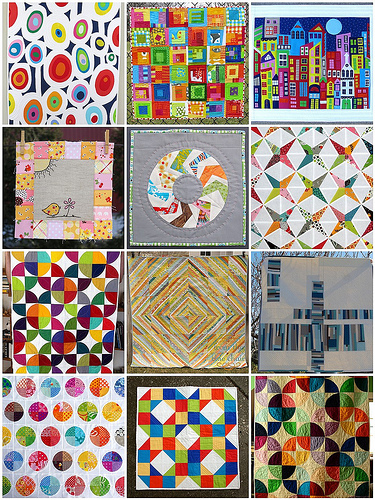 1.
Circles #1
, 2.
A "Stitch N Dye" look alike???
, 3.
"Downtown" – completed
, 4.
Bright and Cheery Bird
, 5.
Spider Legs: Modern Mini Quilt Challenge
, 6.
Flea Market Fancy Kaleidoscope Quilt
, 7.
Modern Drunkard's Path
, 8.
Strings Quilt
, 9.
No Simple Highway Quilt
, 10.
Gobstoppers Quilt
, 11.
For the Love of Solids mini – done!
, 12.
finished – modern drunkard's path
In case you're interested, there are still slots available. Check it out
here
.
I can't wait to find out who my partner is!