Sometimes we all need a day off.
I took one today.
I left the kiddos with my mother-in-law and headed to my LQS for a class taught by Susan Powell, a quilter who makes these amazing improv quilts of city scenes. And not only is she a talented artist, she is also incredibly nice. If you ever get a chance to take a class with her, I highly encourage you to do so.
Here is the city scene I started working on.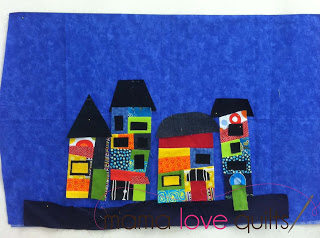 Susan's technique uses a very freeing approach to piecing. One of the first things she said is, "There are no mistakes." That's just the type of sewing I like!
I still have a lot to do. I've got the windows to finish. I may add some stars and a moon. And what's a city without people?!?
I had a lot of fun getting this little piece started. I'm hoping for a good chunk of sewing time this weekend to work on building my city.
What are you sewing this weekend?