The UPS man made an appearance yesterday with a box of lovely fabrics from the Children at Play collection. As soon as I had the chance, I got to work on them with my rotary cutter.
I've got most of the main pieces for Megan's Star cut and sewn together. I did quite a bit of fussy cutting which tends to slow things down, but it's so worth it to have these little focal points throughout the quilt.
These blocks will be the centers of the stars.
And these will be the points of the stars.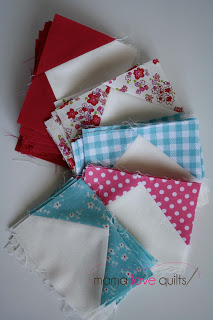 The next main pieces to tackle are the corners of the blocks. Those require serious concentration so I don't sew them in the wrong direction like I did on my sample block.
I'm having fun working on this quilt. I've still got quite a bit to do, but the idea of using it to play peek-a-boo with my little girl is spurring me on.
I hope you are having a great weekend. Happy sewing!