Cityscapes is one of those quilts that could be done in a weekend. The piecing is straight forward and easy and the columns come together quickly.
Still, I'm taking my time with this quilt as I take care of work and home and give myself permission to sleep a little bit more.
I've got the columns all done and I just need to stitch them together to finish the top.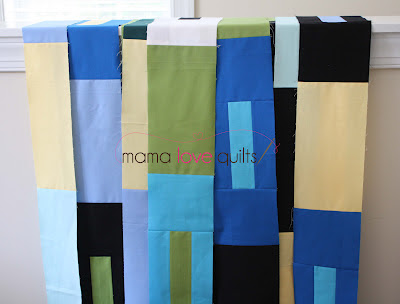 I usually wait until the top is together to even think about how I'll piece the backing, but with this one I have already decided to use the scraps from the nap mat covers I made for my daughter's preschool. I've got long strips of blue that would be perfect for the back. The scraps aren't enough to finish the whole back, so I'll have to get creative with adding other fabric.
Sometimes I like to keep it simple on the back and other times I like a little design on the back so that it's as if I have two quilts in one. What do you usually do for your backing?