Did I mention I'm hooked on Economy Blocks?!?
I would love to make a quilt with these blocks, but for now I can manage a pillow along with my ambitious project list.
Allow me to introduce the Farm pillow.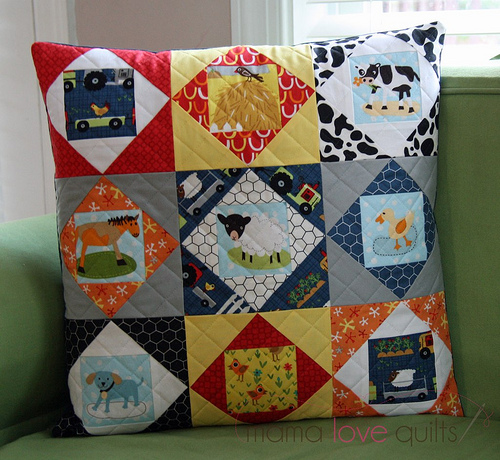 This pillow is made of nine economy blocks, each finishing at 5.75 inches. That's a little bit bigger than the 5″ blocks used in the Economy Block Along. I chose that size so that the nine blocks would fit a 17″ pillow form.
I debated about whether or not to quilt the pillow top, but decided that the quilting may help give the patchwork some stability to withstand frequent washings. I gave invisible thread another try for the quilting and am happy with the results.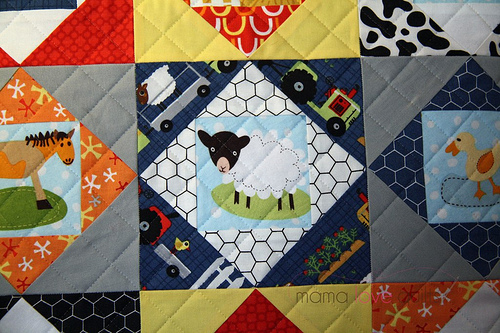 The diagonal crosshatch is subtle and doesn't distract from the animals on the farm. I usually prefer straight lines that are at least 1/2″ apart, but thought that might be too dense for this pillow. Instead, I opted for 1″ lines. I think that spacing works.
The Farm pillow will live in my daughter's preschool classroom. I'm have visions of the teacher using the pillow to start conversations or sing "Old McDonald Had a Farm" with the children. And it warms my heart to know that my daughter will have something mama made in her classroom when we are apart.
Linking up to Finish It Up Friday!