Do you have old clothes that you no longer wear?
I sure do! Most of the time I'll donate them, unless they are in pretty bad shape.
Take these jeans, for instance.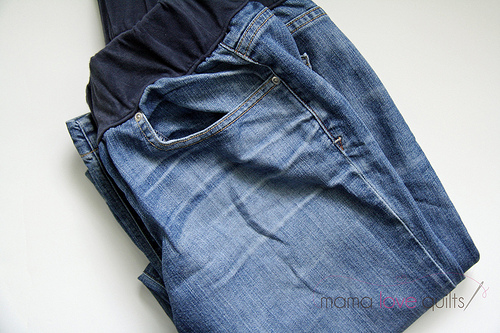 I wore these jeans during my pregnancies to the point where they had holes in unmentionable places.
I picked them up yesterday and decided to give them a second life as a skirt for my youngest daughter.
I came across the Music Class blouse and skirt pattern by Oliver + S and fell in love with the outfit.
With seam ripper in hand, I unpicked the seams of my jeans and laid the legs flat on my cutting table.
The most challenging part of the process was figuring out how to lay out the pattern pieces to make the most of the fabric. I decided where I was going to cut which pieces of the pattern, taking into consideration the size of the pattern piece and the darkness of the color wash on different parts of the denim. I also made sure to line up the pattern piece along the grain so that the grain would go in the same direction for all the pieces.
You can see that the largest pattern piece just fit the width of the leg of the jeans. The only part of the skirt I had to piece together was the waistband, which was wider than the width of the legs.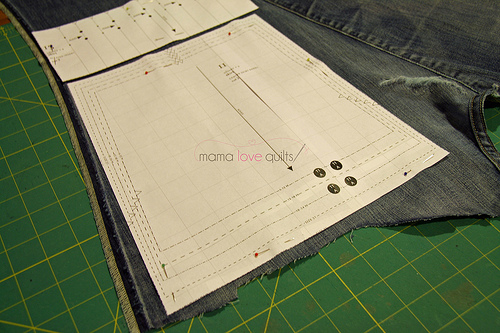 After a little stitching and pressing, the Music Class skirt was born!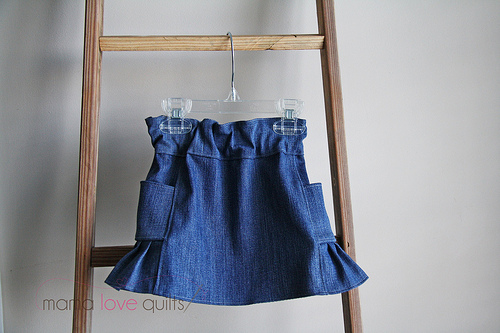 I am completely smitten with it. I love the pleats and pockets on the sides. It's a classic pattern that I know I will turn to again and again.
I'm already planning the next one, which will be for my oldest daughter. And I know exactly which pair of pants will get a new life: hubby's!
I loved reusing the fabric from my old jeans to make my daughter's skirt. Not only did it allow me to entertain my sentimentality about my maternity clothes, but it also saved me money since I didn't have to buy new fabric. That's a combo you can't beat with a stick!
How about you? How do you give old clothes a second life?