As the New Year approaches, I'm beginning to think about what new technique I want to learn. For me, it's hand quilting. I love the look of the hand stitching on quilts. Maybe 2016 will be the year I learn?!?
I was curious about what my readers were interested in learning so for the Sew Mama Sew Giveaway Day, I asked: "What is one quilting or sewing technique that you'd like to learn in the New Year?"
Here are the results of my not-so-scientific poll: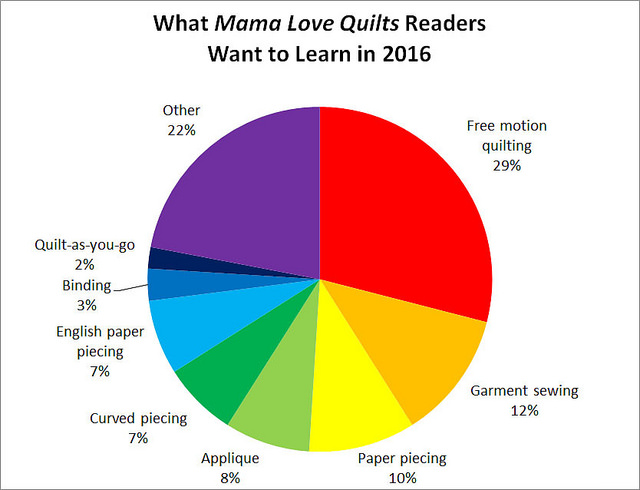 Almost a third of readers want to learn free-motion quilting (29%).
Another third want to master garment sewing (12%), paper piecing (10%) or applique (8%).
Learning curved piecing (7%) or English paper piecing (7%) were other popular techniques.
Some people want to learn new binding techniques (3%) or quilt-as-you-go (2%).
The rest of readers – 22% – want to learn a variety of different techniques – 26 techniques in all. Some of the techniques in this "other" category were thread painting, trapunto, hand quilting, installing zippers, and ruler work on a domestic machine.
Did any of these results surprise you?
I was surprised that free-motion quilting is so popular and that many readers are interested in garment sewing. Whodathunkit?!?
So how do you reach your goal of learning something new?
I'm glad you asked. I recently came across an article on a foolproof way to achieve goals. Think systems, not goals is the answer. Read about it at
Inc
.
Whatever you want to learn, I encourage you to go for it! A New Year is a perfect chance to learn something new.
As for the results of the SMS Giveaway Day, thank you to everyone who participated and for
Sew Lux Fabric
for sponsoring the giveaway. Random.org selected #187 out of 515 entries. Please join me in congratulating
Saija
! She has a $25 Sew Lux gift certificate coming her way!