I usually avoid marking my quilt top like I avoided people who sneezed or sniffled during the H1N1 breakout.
I'll use my seam guide or painter's tape before I pull out my little disappearing blue ink marker.
But on some occasions, it is a must.
That occasion came when I sat down to work on my latest improv quilt based on this tutorial.
Slowly, oh so slowly, I marked line after line, until the ink got fainter and fainter.
I tossed it aside remembering this little gizmo that I bought a while ago, but had never used.
I lined it up against the ruler and ran it across the quilt top. A crisp, straight crease emerged and birds started to sing!
Check out the lines on the left made by the blue marker and compare them to the lines on the right made by my little hera. There is no mistaking which one has earned my devotion.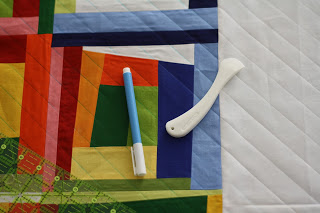 I did it again and again and again. In no time, I was done! Eureka! I had found a way to get nice straight lines in minimal time. And I could see the mark on dark colored fabrics, which make the blue marker invisible. As a bonus, I won't have to drench my quilt top with water to remove the markings made by the hera. The stitching covers up the crease.
I'm a believer.
What about you? Do you mark? If so, what's your marker of choice?