Thanks for all the encouraging comments on the quilts I made in January and the peek-a-boo quilt that I started for my daughter.
The peek-a-boo quilt is proving to be a labor of love. I started quilting it last night. I decided to do a meandering stitch for durability since this quilt is going to get a lot of pulling and will probably see the inside of the washing machine quite a bit.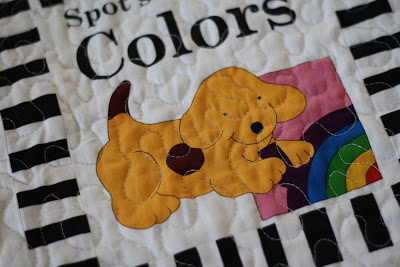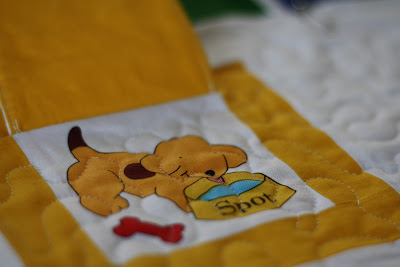 Everything was going fine until I realized I sewed the corner of the quilt to the back. Has this ever happened to you?
I ended up cutting out the corner thinking I could get the quilt unstuck without ripping out the stitches. No such luck. Thankfully, I hadn't sewn into too much of the quilt so it didn't take too long to undo and redo.
I should have just stopped then and went to bed, but I kept going. Until the thread broke. I lowered the tension. It broke again. I lowered the tension again and again until I was sewing along in a good rhythm. But then, the needle started skipping stitches. I thought that was just a fluke, so I took out the stitches and re-did them. But it kept happening. I changed needles several times and changed threads. No luck. Can you see how many stitches got skipped in this photo?!?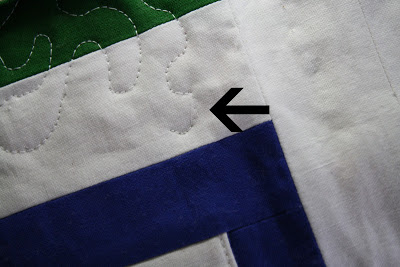 I'm at a bit of a standstill now. I'm stumped as to what the problem is. My next attempt will be to try Q-E needles as they are supposed to help prevent skipped stitches. Has anyone tried these needles?
I'm also going to give Aurafil thread a try too. I've heard so many quilters rave about this thread.
Have skipped stitches ever happened to you? How did you solve them?
Okay, wish me luck! I'm hoping I'll have a complete quilt to show you soon.
Thanks for stopping by!