I'm making progress on my scrappy quilt. Here it is on my design wall.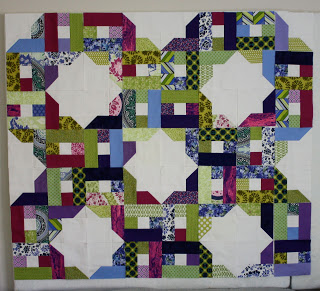 The space was a bit short to fit all the blocks so you'll have to use your imagination for how the bottom looks with the remaining blocks added.
If I were making the one in the book, I'd be ready to put on borders now.
But I want it to be big. Bed-sized big. So I will keep going.
I'm a bit nervous about making a quilt this size. The last bed-sized quilt I attempted is still a UFO that I started 11 years ago! I just keep telling myself that I can do this one!
16 blocks done. 20 to go!
I think I can. I think I can. I think I can.