The journey of a million stitches continues with this little quilt. I'm plugging away at it. The quilting is going pretty well. I was planning on doing a diagonal grid, but once I finished one set of the diagonal lines and started the second set, I didn't like how it looked. I kept going, thinking that perhaps I would like it once there were more lines. I did not. So now I'm ripping out the second set of lines bit by bit.
Here is a photo of one corner of the quilt. The lines are about half an inch apart. I've still got a lot to do.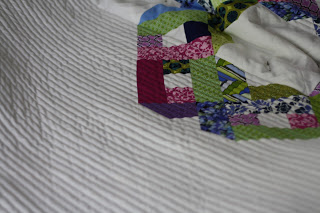 As I work on this project, I'm learning a lot about quilting a big quilt on a little machine. Once I'm done, I'll share my lessons learned.
Sometimes, I think I'm crazy for quilting this big quilt on my little machine, but crazy or not, I started it, so I'm going to finish it!
Wishing you a happy weekend full of fun and good things!