There's less than 100 days left in this year, which means it's time to get my hustle on!
Thank goodness Kelsey at Kelsey Sews is hosting the 100 Day Hustle.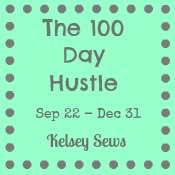 Here's my to-do list for the rest of 2012:
Modern She Made swap – Round 2 item
We Bee Modern Too quilt
Triangle mini quilt
Messenger bag
String pillows
Dresden doll quilt
Coin purse
Log cabin Christmas quilt
Ambitious, aren't I?!?
What about you? Are you hustling to finish your to-do list before the end of the year?