This weekend I went to my LQS and picked up this pile of lovelies.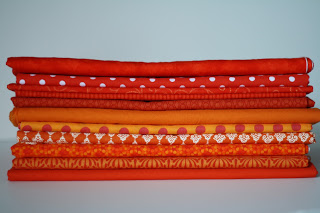 Did I get some looks from the ladies in the shop as I laid a tall stack of orange bolts on the cutting table?!? I told them about the Tangerine Tango challenge.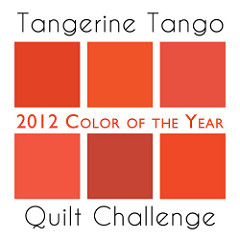 I wasn't planning on entering the challenge, but Debbie from A Quilter's Table inspired me with her entry.
So now that I have the tangerines, I'm ready to tango. I started thinking about the design of the quilt. That got me wondering about the whole process of deciding on a quilt design. The deadline for this challenge is March 2, so I've got to figure out a design soon.
My process of designing a quilt is somewhat "organic." I'm driven by things around me that attract my attention. I start thinking about how I would translate that thing or image into a quilt. It could be a pattern on a dress, the design of windows in a building I pass by, or a painting in a museum. I file these away for later. I often buy fabric without a specific project in mind. When I'm inspired, I go through my stash, sketch something up, and start cutting and stitching.
How do you decide on a quilt design? Do you have a design in mind before you buy the fabric? Or do you get the fabrics and then decide? Do you use a pattern or create your own design? I'd love to hear what works for you. Please leave me a comment. Comments make me smile.