Have you ever ordered one of those surprise scrap bags?
I love not knowing what I'm going to get. Opening the package makes me feel like it's Christmas. Sometimes I luck out with the most beautiful assortment of fabrics. And then other times, my heart sinks with disappointment.
Today, I got one of those disappointing packages. When I tore away the tissue paper that the fabric was wrapped in, I found this set.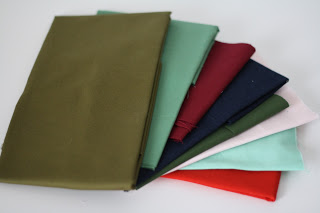 I really like the red and the burgundy. I can even work with the navy and the pale pink. But, oh boy, those greens!
Those greens – army green, sage green, hunter green, and minty green – pose a designer challenge. These are definitely not colors I would have chosen on my own.
But given that they are now all mine, I've got to find some way to work with them. Let's see how I can mix them up with my stash and make lemonade from these green lemons.