Today was a good day. Both girls took 2 hours naps – at the same time! That meant lots of sewing time for me.
I used the time to work on the idea that I mentioned was inspired by a skirt I saw in a catalog.
Since working on the last quilt, tangerine has started to grow on me. I went a little crazy with it on this one. Here's a sneak peek of the finished top.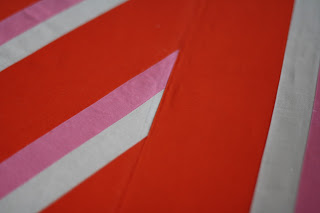 Can you guess the design?
I'm taking a minimalist approach on this one, so I want to go heavy on the quilting, which means it will take some time. But I'm going to go for it, simply for the texture. It's going to be a mini so hopefully it won't take forever to quilt.
Stay tuned!