My Valentine's Day gift to myself is this finished quilt.
I'm calling it "Vroom! Vroom!" for the little scooter in the middle and the speed at which I got this one done. I started on Thursday, February 9th and finished today, 5 days later. I think this is my quickest quilt yet.
It started as an answer to the Tangerine Tango challenge. I took the risk of doing an improv quilt. I never know how those quilts are going to turn out. This one wanted to be more white than tangerine.
So I let it.
Here are a few close ups.
There is so much more white than tangerine that I don't think it is a good fit for the Tangerine Tango challenge. That means I need to come up with another idea.
Fortunately, I've got plenty of other ideas brewing in my mind.
Remember the wonky stars I mentioned back in this post? I'm going to give those a try next. This project will be less improvisational – I say less as I can't keep from having some improv emerge.
I'm linking up with [Sew] Modern Monday, Sew Darn Crafty, and Fabric Tuesday.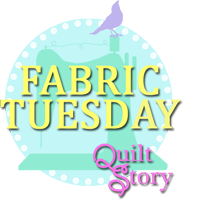 Thanks for stopping by! Happy Valentine's Day!