Something I've been contemplating is whether or not to purchase EQ 7. I've been designing quilts the old-fashioned way, with paper and pen and doing the math in my head. Sometimes, if I want to get real fancy, I'll pull out graph paper and colored pencils! I'm wondering if it's time to step into the 21st century and start using software.
I recently "met" Jenny at Jenny Makes Stuff and have been chatting with her about EQ 7. She's a designer for EQ and has made some beautiful things using EQ 7. Check out her cute robot that just got published in Fat Quarterly. Would you believe she used EQ 7 to design it?!?
One thing I was wondering is if there are any other software programs besides EQ 7? I'm a Mac user and getting EQ 7 would mean I'd have to borrow my husband's PC. Does anyone know if there are quilt design software programs just for Mac?
Since I've no new photos, I'll leave you with another photo of Spot. I hope you aren't tired of seeing him!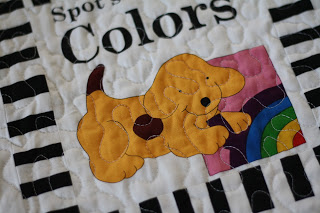 So, what do you say? To EQ or not to EQ? That is the question.