Don't be fooled by their small size. Minis are not easy!
I've had an idea for the Modern Mini challenge for a couple of weeks now. I started working on it right after finishing Starburst, but midway through it, I got stuck. With time running out, I decided to try another idea that I've had for a while. But then I realized it was way too complicated to finish in a couple of days. So after a whole lot of deliberating, I went the improv route and came up with this.
I'm calling it "Stepping Stones." The way the rectangles are arranged remind me of steps.
I had no plan when I first started Stepping Stones other than the colors. I started with green, orange, and yellow. As I was sewing, I felt like blue was missing, so I threw in a few dark blue pieces. I varied the widths and lengths of the pieces and added white for contrast. Unlike my other improv quilts, I felt like this one needed straight edges.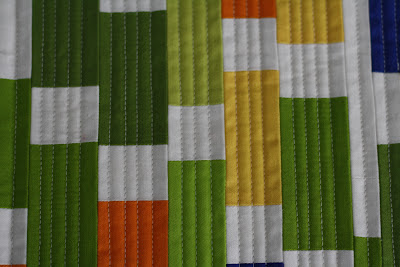 I quilted with straight lines about 1/4″ apart for the center portion and 1/8″ apart for the side borders.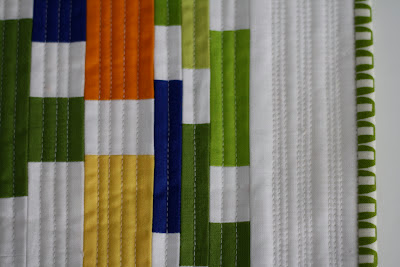 It measures 12.5″ x 20.5."
After a couple of false starts and much deliberating, I'm so glad to get this one done! And just in time to link up to the Modern Mini Challenge, Sew Modern Monday, and Little Quilt Monday.