I'm making progress on my medallion quilt, which I'm calling, "Bird Park."
After three attempts at a design, I finally settled on the fourth try. I won't bore you with details of my attempts, but will say that making a medallion quilt was more challenging that I had expected. I wanted to do something in the borders that would be interesting, but not overpowering or take away from the center of the quilt.
At first, I went with an improv string border, but didn't like it. Then, I went with a traditional string border, which I loved, but felt that it took the attention away from the medallion. Then I went with plain improv borders, but felt they were a bit too plain.
In the end, I went with a pink border. I'm going to make it asymmetrical to add some interest.
I'm also going to add a few flocks of flying geese. Every bird park needs geese.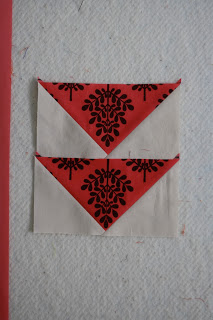 And I'm putting in lots of negative space for the geese to fly in. All of this negative space will need lots of quilting. I'm still deciding on that part.
I hope to have more to share with you soon.