I've been wanting to make my four-year old daughter an alphabet quilt for a while. I love the idea of making her a quilt that will keep her warm and help her to learn.
This quilt will be her "starting school" quilt, since she's starting real school (yikes!!!) – prekindergarten – in a couple of weeks. That means I've got to sew like the wind!
More than a year ago I came across a kit to make an alphabet quilt. I had to have it! The fabrics were oh so cute and not your typical alphabet panel. This one, Animal Alphabet Flashcards by Lisa DeJohn features some common animals like "ant," "caterpillar," and "ladybug" and some less well known animals like "impala," 'urchin," "vicuña," and "xantus."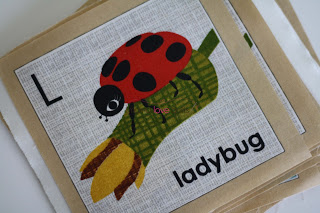 I am just now starting to work on it. The color scheme will be more subdued that I usually choose, but since blues and greens are the most common colors in nature, they seem like a perfect fit for an animal quilt. I'm throwing in a little bit of yellow to warm things up and will be using some fabrics from my stash and scraps, in addition to the fabrics in the kit. The more fabrics, the merrier the quilt, right?